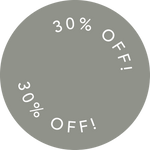 Kipton Bath Mat
This item ships in 1-3 days
Our generously sized Kipton Bath Mat features all the texture and timeless elegance necessary for a bathroom. A block of textured gray ribs accents natural cotton in this thick cotton bath mat.
Each mat is hand-woven in Ethiopia using time-honored weaving traditions and AZO-free dyes. Hand-spun Ethiopian cotton adds a uniquely rich texture that will continue to soften and become more absorbent with each wash/dry.
*Shipping times may vary.
Details
Dimensions: 24" W x 36" L
Material: Cotton
Made in Ethiopia
Due to the handcrafted nature of this item, there may be variations from the image shown
Care
Machine wash and dry
Shipping - this item typically ships within 1-3 days of order date. Please allow 1 week from shipment date to delivery.

Returns - At House of Jade Home we pride ourselves on only offering items we love and are confident you will love. We do allow you to return most items up to 30 days after purchase. Holiday Orders placed after December 15 are not eligible for return. You will be responsible for return shipping and you will need to return the item in its original packaging. Your refund amount will be the total order value less shipping and handling charges. We do not allow refunds on artwork or furniture. All artwork and furniture sales are final. Rugs and lighting will incur an additional 15% restocking fee. We are happy to repair or replace damaged items. Please contact us no later than 48 hours after you receive an order to report damage. Handling fees are added to large/oversized items to cover the increases care/cost to freight these types of items. Please contact us at support@houseofjadehome.com if you have questions related to our shipping or return policies.